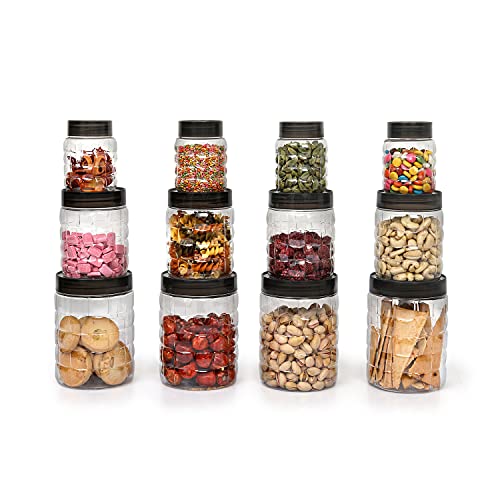 Cello Checkers Pet Plastic Airtight Canister Set | Food grade and BPA free canisters | Durable & Shatterproof Body |Air tight seal & Stackable | Free from any kind of odor | Transparent | 300ml x 4, 650ml x 4, 1200 x 4, Set of 12 is available on Amazon at best discounted online price. MRP of this product is ₹ 999. You can buy this product at discounted rate ₹ 538.
Product Description:-
Airtight Seal: The airtight seal mechanism preserves the freshness and flavor of your food items, whether it's pasta, cereal, rice, or snacks. Keep your ingredients at their best for longer periods.
Durable & Shatterproof: Built to withstand the demands of everyday use, these canisters are both durable and shatterproof. Rest assured, they can handle the rigors of a busy kitchen without breaking.
Food-Grade and BPA-Free: The Cello Checkers Canister Set is made from food-grade PET plastic, ensuring the safety of your stored ingredients. These canisters are also free from BPA (Bisphenol A), a harmful chemical often found in plastics.
Odor-Free Storage: These canisters are designed to be free from any kind of odor retention. Your stored items will remain untainted by external odors, ensuring the purity of your ingredients.
Versatile Usage: Ideal for storing a wide range of dry food items, these canisters are versatile additions to your kitchen. Use them for pasta, rice, coffee beans, sugar, flour, snacks, and more.
You can follow the below steps to buy this product at best deal price.
How to get this Deal Online?
Add product to cart.
Login or register.
Update or select shipping details.
Pay the amount.
Please note: Sometimes you may see variation in product price due to "different seller" or "offer ended".
Disclaimer :
Product prices and availability are accurate as of the 15th September 2023 6:45:24 pm as indicated and are subject to change. Any price and availability information displayed on Merchant's Site at the time of purchase will apply to the purchase of this product.
https://bigloot.in have no control over and makes no warranty or guarantee regarding the quality, usability, safety, morality or legality of any aspect of the items listed, the truth or accuracy of the listings or the ability of sellers to sell items or honor their coupon or promotion.
Note: Free delivery for Amazon Prime Members or make order over ₹ 499 else ₹ 40 will be additional shipping charge.
Disclosure: As an Amazon Associate I earn from qualifying purchases.