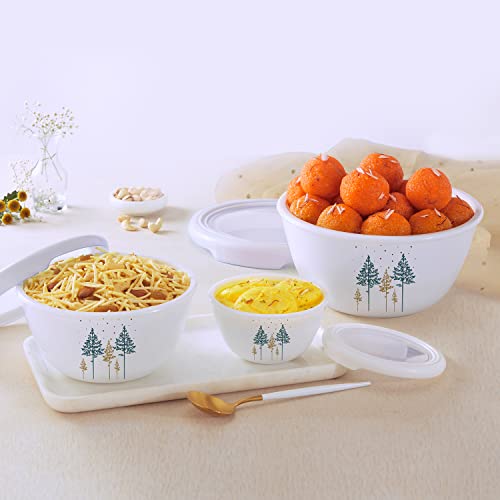 Cello Opalware Mixing Bowl Set With Premium Lid, Royal Pine, Set Of 3, (500 Ml, 1000 Ml, 1500 Ml), White is available on Amazon at best discounted online price. MRP of this product is ₹ 1299.0. You can buy this product at discounted rate ₹ 554.0.
Product Description:-
Made in India with most advanced German technology as per European standards. A dinner set that is 100 % vegetarian, bone ash free and made of green material.
Non porous, food grade and hygienic dinnerware solution for your family that is easy to clean and doesn't stain or leach chemicals.
Thermal resistant – No cracks on heating inextremly high temperature. It is break, chip and scratch resistant made suitable for everyday use .
Dishwasher and microwave safe that is ideal for everyday use. Air Tight Lid: Tiffany Dry fruit set features an air tight lid that completely locks the crisp & flavour of the content stored in it and does not lose moisture.
Marigold yellow and green Pine tree silhouettes on the super white serving bowls bring an elegant look to any special event. Pack contents- 3 pcs Bowl with lid, capacity- 500ml, 1000ml, 1500ml
You can follow the below steps to buy this product at best deal price.
How to get this Deal Online?
Add product to cart.
Login or register.
Update or select shipping details.
Pay the amount.
Please note: Sometimes you may see variation in product price due to "different seller" or "offer ended".
Disclaimer :
Product prices and availability are accurate as of the 16-September-2023 00:12:17 as indicated and are subject to change. Any price and availability information displayed on Merchant's Site at the time of purchase will apply to the purchase of this product.
bigloot have no control over and makes no warranty or guarantee regarding the quality, usability, safety, morality or legality of any aspect of the items listed, the truth or accuracy of the listings or the ability of sellers to sell items or honor their coupon or promotion.
Note: Free delivery for Amazon Prime Members or make order over ₹ 499 else ₹ 40 will be additional shipping charge.

Disclosure: As an Amazon Associate I earn from qualifying purchases.